Minimum requirements to run Battle Riders on PC
If you are looking to run Battle Riders on your PC, it's good to take a look at the minimum requirements and see if you can REALLY run it.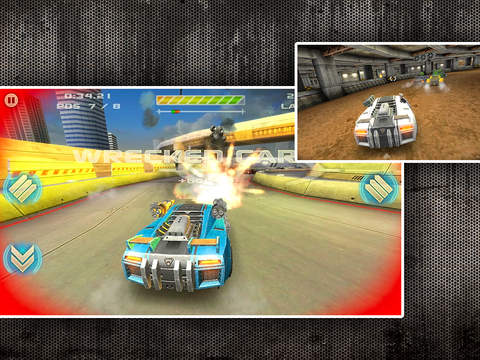 Minimum requirements – Battle Riders
OS: Windows 7

Processor: Intel Core 2 Duo / equivalent

Memory: 2 GB RAM

Graphics: GeForce 8800 GT / equivalent - 720p HD (1280 x 720) desktop resolution

DirectX: Version 9.0c

Storage: 1 GB available space
Recommended Requirements – Battle Riders
OS: Windows 7, 8, 10

Processor: Intel Core i5 / equivalent

Memory: 4 GB RAM

Graphics: GeForce GTX 560 / equivalent - 1080p Full-HD (1920 x 1080) desktop resolution

DirectX: Version 9.0c

Storage: 1 GB available space
---
Battle your way to first place in this engaging combat racing game. It offers adrenaline pumping, high-octane action and a lot of fun! Win races and complete the career mode, which spans over 120 events, to unlock great cars, exciting tracks and powerful weapons. The game features 3 racing tiers, with higher tiers enabling higher speed and better weapons. • MULTIPLE RACING MODESHit the tracks in 6 racing modes: Duel, Battle Race, Survival, Elimination, Clean Race and Time Trial.• UNIQUE CARSChoose from 7 unique cars, specially built to sustain the challenges of combat racing. The cars performance and visuals can be customized.• POWERFUL WEAPONSEquip weapons from 5 different types: Machinegun, Missiles, Mines, EMP and Raygun.• WRECK THE COMPETITIONUse your weapons to wreck the other cars and gain an important advantage in the race. Wrecking opponents awards credits that can be used to buy upgrades and weapons.• EXCITING TRACKSBlast your way to greatness on 9 tracks across 3 different environments. Each track also features a reversed version, for a total of 18 tracks.• COLLECT POWERUPSThree types of powerups can be found on the tracks: Ammo, Boost and Health.• CHALLENGESPlay fun challenge modes: Time Attack, Minefield and Barrels.• ACHIEVEMENTSUnlock great achievements and compete for the first places on the Wrecks Leaderboard. Notes: The game is only single-player. The controls are fully customizable to any keyboard keys, mouse buttons, controller joysticks or buttons. Because the game often requires 4 or more keys to be pressed at the same time, especially if using manual acceleration, the default keyboard configuration of W, A, S, D and K, L for weapons or arrows and Z, X for weapons is specifically chosen to avoid the issue of keyboard ghosting. This is a hardware limitation of computer keyboards to sense some combinations of keys while being pressed at the same time. Please be aware that using CTRL, ALT or SPACE for weapons might not work properly. This game is a re-mastered version of Battle Riders for mobile, having all aspects improved upon. The most important changes are: - improved all graphics and special effects - 3d models with 10x more polygons - higher texture resolutions from the cars and weapons to the tracks and skies - reworked shaders for materials, special effects and screen filters - higher quality real-time shadows and lighting - twice the rendering distance - better anti-aliasing - 4k resolution support - 60 fps support - improved controls and physics - many changes to gameplay elements - new game hud and menus - better sound and 10 music tracks
Battle Riders is avaible for iOS and PC.