Minimum requirements to run Gaming Accelerator 2 on PC
If you are looking to run Gaming Accelerator 2 on your PC, it's good to take a look at the minimum requirements and see if you can REALLY run it.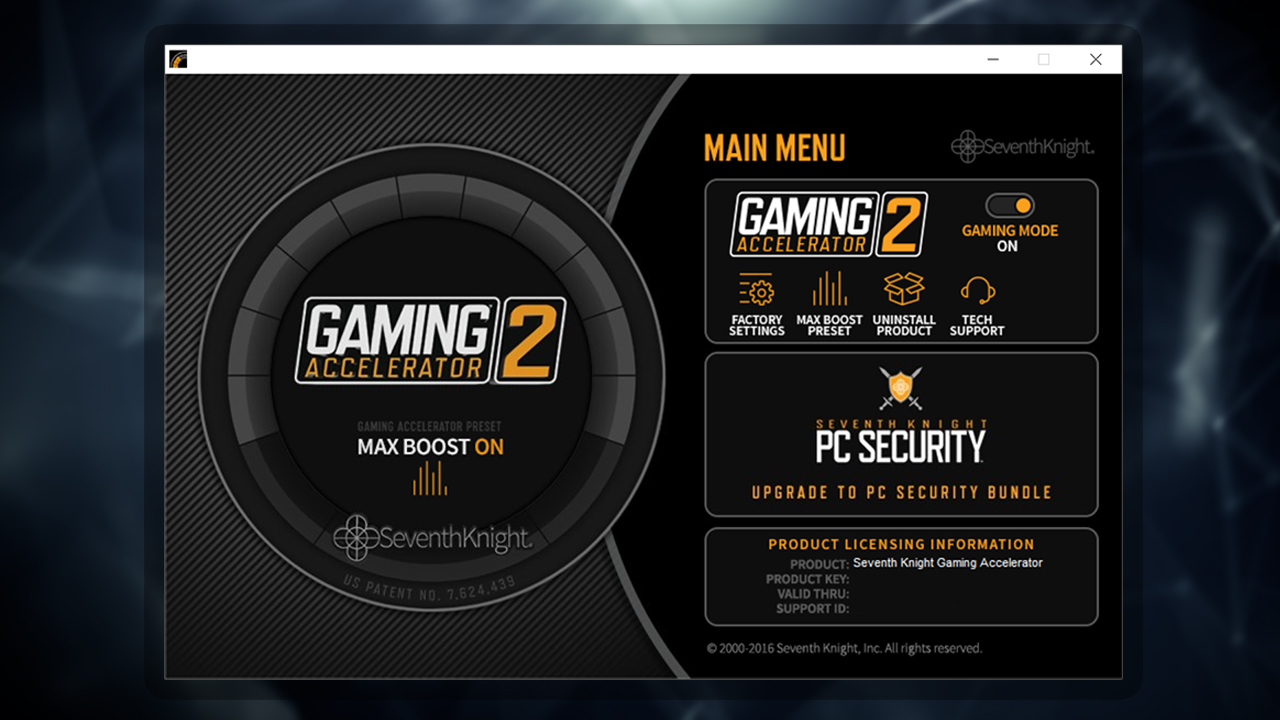 Minimum requirements – Gaming Accelerator 2
OS: Windows 7, Windows 8, Windows 8.1 and Windows 10

Processor: 1 Gigahertz (GHz) or faster 32-bit (x86) or 64-bit (x64) processor

Memory: 1 GB RAM

Graphics: 128 MB of graphics memory plus WDDM support

DirectX: Version 9.0

Network: Broadband Internet connection

Storage: 100 MB available space

Additional Notes: REQUIRES INTERNET BASED PRODUCT ACTIVATION
Recommended Requirements – Gaming Accelerator 2
Additional Notes: This version of Gaming Accelerator 2 will not expire.
---
Also Available: Seventh Knight PC Security + Gaming Accelerator 2http://store.steampowered.com/app/518690/ About the Software This utility is not a system optimizer or tweaking program.This product is based on a patented 'Generation 3' whitelisting (with sandbox) technology. Most users will experience smoother gameplay and a slight FPS increase. This product boots Windows into a basic mode with fewer programs and services using whitelisting of processes which you cannot replicate by changing settings or killing processes. Tired of lag during complex battle scenarios? Gaming Accelerator dedicates as much power as possible to your game that would otherwise be allocated to the many background programs and services that other applications leave running. Seventh Knight's patented Gaming Accelerator technology extracts more speed from the core of the operating system by managing resources similar to a gaming console. This means more power, less lag and smoother overall gameplay. Gaming Accelerator generally provides results up to 3x faster than any other utility claiming to increase your speed because it isn't simply a "system optimization" utility. Be sure to check out our new PC Security Bundle that includes Gaming Accelerator 2. Protect your PC from harmful viruses and zero-day "ransomware" attacks including CryptoLocker.Gaming Accelerator Quick Facts: Simple on/off operation with "Maximum Boost" preset. Completely different from competitors such as system optimizers. Get more performance from your existing hardware. No spyware, excess programs, or pop-up ads. Remembers custom settings for programs in Gaming Mode. No annual renewal required! Typical Performance Boost 10%-40% (Results vary by machine) This version of Gaming Accelerator 2 will not expire.Military Grade Technology: Based on patented technology originally developed for U.S. Army Research Laboratory, Computational and Information Science Directorate High Performance Computing Division Information Assurance Center under Cooperative Research and Development Agreement No. DAAD19-02-9-0001 Concerning Investigation and Development of PC-Based Configuration Management and Intrusion Detection Technologies. Built on AppMoat Enterprise technology.Patent Quick Facts: Seventh Knight owns and bases its software upon three issued patents, which are listed below. The patent files may be viewed at http://www.uspto.gov. U.S. Patent No. 7,624,439 for "Authenticating Resource Requests in a Computer System", U.S. Patent No. 7,149,800 for "Auditing Computer Systems Components in a Network", and U.S. Patent No. 7,685,174 for "Automatic Regeneration of Computer Files". This product is built from Enterprise class technology. Read more at www.seventhknight.com and www.AppMoat.com.
Gaming Accelerator 2 is avaible for ['PC'].